The first Cock of the Walk opened in April, 1977, on the bank of the ole "Mighty Muddy" Mississippi River in Natchez, Mississippi. The founders were Sallie and Basil Ballard, Weeta and Forrest Colebank, and Ann and George Eyrich.
Folklore has it that the brawny, bawdy bunch of men that manned these boats would fight to see who got to man the rudder (the easiest job). Whoever came out on top was called the "Cock of the Walk", the ruler of the roost, and the best of the best! In 1977 catfish restaurants were a dime a dozen, especially in Mississippi. But this one turned out to be the "Cock of the Walk" right from the start! The only meat on the menu at that time was fried catfish, period! It created many a howl to hear the server ask the customer if he had decided yet what he wanted to order after looking over the menu. Of course, the customer would invariably answer "fried catfish" at which time the server would reply, "excellent selection, sir!"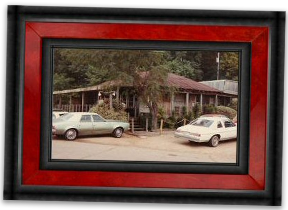 THE ORIGINAL LOCATION - NATCHEZ, MS
So how could such a limited menu containing some of the most popular menu items in the South become so successful, you ask? Because of the unsurpassed quality and perfect blend of seasonings in every item on the menu that set it apart from all the rest, pure and simple! In fact, Cock of the Walk has won national acclaim in too many venues to mention but some of the more notable have been, "Where to find the best food in America" in People Magazine, where Cock of the Walk was listed as having THE best catfish and hushpuppies in the U.S.A. Then Craig Claiborne, food editor for the New York Times wrote that "Cock of the Walk has the best catfish in Mississippi, and therefore, the nation. And if you like country cooking….superb!"
Today the franchise rights are owned by Keelboat Concepts, Inc., and the Cock of the Walk restaurant in Pensacola, Florida, serves as the headquarters location.